STTS helps you put the care into
communication

and the heart into

leadership

.
We inspire a
human touch

in all interactions so that people thrive
and win trust in today's digital world.
We work hard to make every workshop very practical and interactive, providing a high retention learning experience in a friendly, proactive environment.
We work closely with experienced, professional trainers to provide a wide range of popular topics. All in-house training can be customised to meet your requirements. We can also provide bite-size learning for shorter quick fixes of motivation and learning.
Looking for keynotes for your conference? Let us know your requirements, and we'll find the right professional speaker for you. STTS founder Shirley Taylor and our other speakers will provide high-energy, high-content keynotes that will educate, motivate and transform individuals to achieve greater success.
VIRTUAL TRAINING PROGRAM:
BUSINESS WRITING THAT WORKS
Engaging . Interactive . Video-Based . On Demand.
With this unique interactive, video-based virtual training program, Shirley can work with you one-on-one
to help you get your message across effectively and get great results.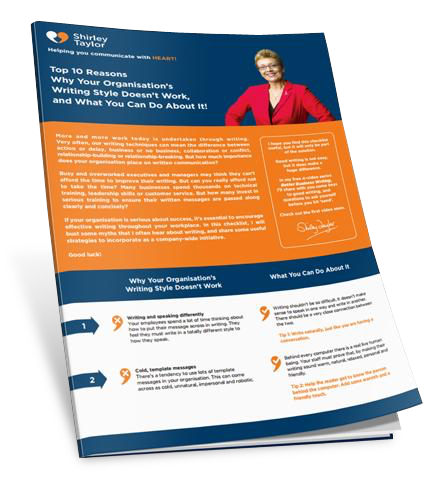 GET SHIRLEY TAYLOR'S
SPECIAL CHECKLIST AND FREE TRIAL
Don't miss Shirley's checklist: Top 10 Reasons Why Your Writing Style Doesn't Work, And What You Can Do About It!
PLUS: You'll also receive a FREE TRIAL of her interactive, video-based virtual training program 'Business Writing That Works'.
SHIRLEY TAYLOR'S INTERNATIONAL BESTSELLER
STTS Training Testimonials
"I enjoy the courses conducted by STTS, as I feel inspired, motivated, revived and recharged. They will definitely enhance my success at work. Shirley Taylor and the trainers are full of energy and drive."
"Shirley was engaging and full of energy throughout the entire session! There was a good balance of learning and laughter and she gave good examples to bring across her points. Shirley knows how to keep her audience engaged by making them participate in her session. Everyone who attended gave positive feedback."
"The workshop is very engaging. I have learnt a lot and will definitely apply what I've learnt at work, and even at home! The workshop is awesome!"
At STTS Training, we specialise in providing business training in communication skills, presentation skills, leadership skills, personal effectiveness and other skills that can enhance your personal and career success. Training can be provided in Singapore, Malaysia, other areas in Southeast Asia, and beyond. We run popular public workshops every month, and all programmes can be customised for in-house training.
Founder Shirley Taylor is a popular business trainer and author of several international bestselling books, including Model Business Letters, Emails and Other Business Documents seventh edition. Shirley works closely with professional, experienced, business trainers to make sure every workshop is practical and engaging, full of valuable tools, helpful guidelines and powerful action steps for business success.
STTS – Your Total Training and Development Solutions for Career Success.